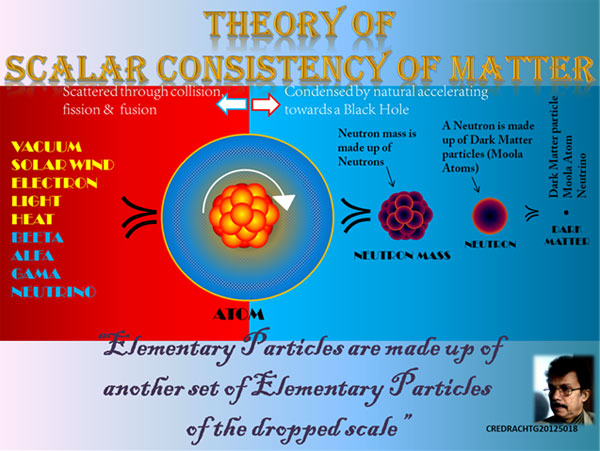 SCALAR CONSISTENCY OF MATTER/08thOct. 2018
1.   WHAT IS 'MATTER' AND HOW TO MEASURE?
2.   THE THREE STATES OF MATTER
3.   MEDIUM MATTER
4.   ENERGY MATTER
5.   ATOMIC MATTER
6.   SCALAR CONSISTENCY OF MATTER
6.1 The Scientists and Philosophers so ever bone in the great human civilisation made their utmost attempt to break down 'Matter' in to the smallest structure as possible to observe  the most Elementary Particle of its make.
6.2 Atom was the milestone found in the above historical exersice but particle physics has proven existence of more finer structures such as Electrons, Protones, Neutrons, Neutrinos and Photons etc which behave morover as Energy Rays in their dynamics.
6.3 However a particle cannot be declared for acceptance without defining its Structure and Dynamimics.
6.4 Atom is belived to be found from several senturies ago but without a complete definition either for its Structure or Dynamics. What is the boundary of an Atom? What happens to Atom if it is accelerated to the speed of light?
Theory of 'Scalar Consistancy of Matter':
"Elementary Particles are made up of another finer set of Elementary Particles of the Droped Scale"
It also emphasises that Man is to observe only a narrow scalar domain of the entire thing of the 'Worlds'.
Conclusion:
Whence man cannot observe either microscopic or macroscopic end realities of Matter, then how could he wish for 'Origin' or 'End' for the Universe?